This morning I saw that
Cupcake Dictionary
is doing a giveaway to name her Camera. So, of course, I'm going to enter it.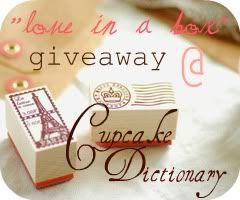 If you could have any camera in the whole wide world (money is no object) what kind of camera would you get?

The newest Nikon on the block.
What kind of photos are you most interested in taking, looking at, etc (macro, food, nature, portraits)? macro and candids.
Canon or Nikon? can I say both?
Which inspires you most: Sunny days or Rainy days? today, it is raining and I love it!
A normal summer day would find you: working outside probably. Fridays I would be baking and Saturdays I would be at Farmers Market selling.
One word to describe you: crazy...probably. that's a question you should ask my family. :)

Ok, here are the names that she picked:


I guess I'm picking E. Here's what I like: "Keanna" or "Carliss". They kinda different, but I think they're pretty. Both of the names come from Chuck Black books. If you haven't read them, you should.
Have fun naming your camera, Jocee.